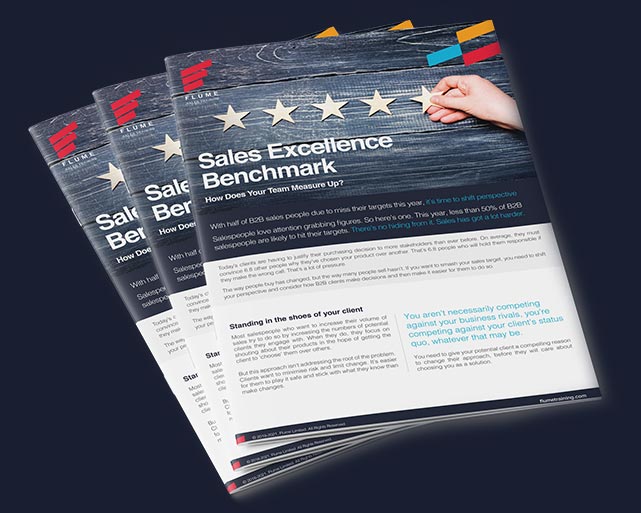 The Flume Sales Excellence Benchmark
At Flume we are experts in sales excellence. We scrutinise, we analyse and we interpret the most successful sales behaviours and skills. We know what top performers do differently – and can identify the gaps that prevent the majority of sales teams reaching that latent potential.
With just 29% of salespeople hitting target in Q4 last year, and only 40% predicted to hit target this year, there is no doubt that sales is tougher than ever. Every sales KPI is going in the wrong direction. But across the globe, the top salespeople are able to ride out whatever the economic climate throws at them. They flourish no matter what. These top sales performers are doing something very different from the rest – but what?
What are the mistakes many salespeople make?
Hard sell = Hard buy
The pressure on salespeople to hit target creates a paradox. The harder they try, the less they tend to think about what the buyer needs, making it harder for the buyer to see the benefit.
Unfocused, scattergun outreach leads to generic, self-serving approaches and messaging, reducing the chance of buyers even responding.
The tunnel vision of hitting targets makes people jump straight to the pitch far too quickly. Unfortunately, this is unlikely to be aligned to the buyer's needs, lowering the chance of a sale.
The more focused a salesperson is on maximising spend from a client, the more options they throw at them. This makes the buying decision even harder and riskier, leading to indecision.
Leaving the buyer to navigate the decision-making process alone – and sell it to an increasing number of stakeholders – extends the length of the sales cycle. Worse, it can lead to total sales paralysis, with some 53% of opportunities being moved to 'Closed lost' due to client inaction.
What are the top sales performers doing differently?
Easy buy = Easy sell
Quite simply, they put themselves in the buyer's shoes. They still have a strong focus on hitting targets but they understand that, to do this, they need to improve the performance of every customer they work with. They research their clients and come up with solutions that really mean something to each buyer. Instead of a hard sell, they act as buying advisors who cut through the noise and help customers achieve the outcomes they need.
Put themselves in to the buyer's shoes and tailor approaches
Learn and teach about blind-spots and best practice
Proactively anticipate buying barriers and increase confidence in the purchase
Take our Sales Scorecard and get your free, personalised report
Using this expertise, our Sales Scorecard benchmarks your team against the highest performers in the world and shows what you can do to lift those barriers and achieve long-term, measurable success. Find out how you stack up against the very best in sales excellence. This Sales Team Scorecard has been designed to help Sales Leaders identify their team's blind spots and pinpoint areas of improvement, offering immediate and actionable strategies to turn your salespeople into top performers on a global scale. It will give you
A comprehensive view of how your team measure up against the world's best B2B salespeople
An in-depth analysis of your team's performance across 12 core sales skills
Instant actions and long term strategies to improve sales performance
A personalised PDF report tailored to your team
The Flume Advantage
Flume are experts in modern buyer behaviour, cutting edge sales approaches and behaviour change. To find out what changes you could make to propel your team into top flight sales performers, try out our free, 4-minute Sales Scorecard. Or if you need help to transform your sales team, your sales culture or with ongoing team development, check out our blog, follow us on LinkedIn, or book a call. We love to share.