Account Management Training Courses
Account Management and Customer Success teams play a vital role in the retention and growth of accounts and the continued success of the sales team. Their in-depth understanding of each client, their needs, goals and aspirations, is what keeps your hard-won customers on side and coming back for more.
Today's customers have high expectations of their chosen suppliers. They want a seamless, effortless experience without unnecessary complications or unwanted surprises. All too often, however, AMs approach these crucial relationships in the wrong way, unintentionally making things harder for their customers. So, what do successful AMs do differently?
Flume's Account Management training courses teach you to think differently, to put yourself in the customer's shoes and create a standout experience for the client right from day one. Learn game-changing approaches to understanding your customers' needs and expectations. We will show you how to excel at every turn, increase retention and unlock new growth opportunities.
AM Star
In the first of our Account Management training courses, we share what great looks like and what top account management professionals do differently. You will develop a portfolio of skills and techniques to create an outstanding customer experience at every stage, enabling you to increase retention and growth
AM Star modules:
AM Legend
Adding to your AM Star toolkit, AM Legend helps you identify the accounts with most potential. You will learn how to connect and build rapport, plus how to create higher quality upsell proposals that convince the wider decision-making group and speed up decisions


AM Legend modules:
AM Guru
Building on the skills you have already learned, AM Guru gives you the tools and confidence to excel. Specialist modules will show you how to deliver an outstanding virtual sales experience. Learn how storytelling can drive upsell, and hone your presentation and negotiation skills to increase impact and sales
AM Guru modules:
CHALLENGE
"Our challenge was to build a sales team capable of changing our clients' mindset and approach regarding digital marketing. We wanted our sales team to help our clients build a stronger marketing mix, experience new digital opportunities, and maximise their ROI."
RESULT
"On the sales floor we saw a dramatic improvement in the team's performance. Flume ensured our sales team developed the skills to confidently sell digital. Now our clients perceive us as experts and trust us to help them succeed."
Speak to the experts. Book a call today.
Book a free, no-obligation 30-minute call so we can share our ideas and show you how to drive lasting behavioural change with Flume Sales Training Courses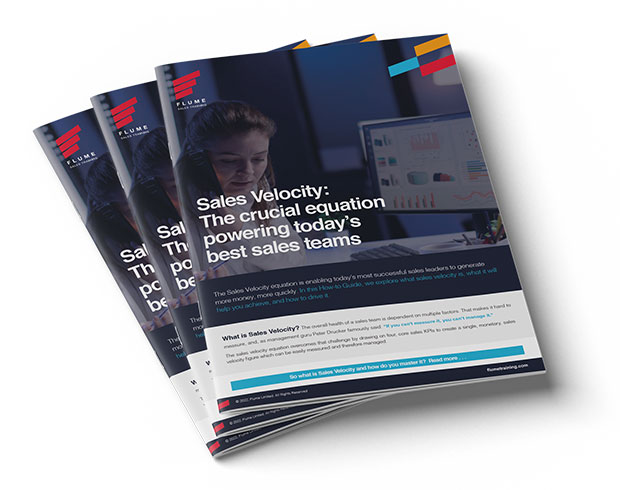 The crucial equation powering today's best sales teams
The Sales Velocity equation is enabling today's most successful sales leaders to generate more money, more quickly. In this How-to Guide, we explore what sales velocity is, what it will help you achieve, and how to drive it.