Today's sales leaders need to guarantee that any investment in sales training leads directly to achieving those all important KPIs with a tangible increase in performance and revenue.
Flume are behaviour change experts. We do sales training differently – for every type of customer-facing rep. Buyer behaviour is constantly evolving so your teams need to be agile, equipped and able to think on their feet.
Flume sales training transforms the way your teams think, putting them in the buyer's shoes at every stage of the buyer journey, from initial outreach to account growth. And we de-risk your purchase by measuring every stage of behavioural change, its impact, outcomes and ROI.
You deserve more from your sales training
We design and deliver programmes that drive sales in today's world
Together we create measurable sales impact and ROI
You deserve sales training that actually works
We mix live training, coaching and platform-based learning
Together we drive consistently brilliant sales performance all year round
Flume sales training techniques set you up for success. Unlike most one-day sales training, our courses give your teams time to learn, to practise, to question and to adopt outstanding new behaviours.
Game-changing, buyer-centric sales techniques are at the core of all our sales training programmes, putting every customer-facing rep into the heads of their buyers from first contact to closing the deal.
Flume's sales training programmes are not a one-shot approach. Our 4-stage intervention technique instils long-term behavioural change that lasts far beyond a training programme.
Flume de-risk your purchase with end-to-end project management, continuous tracking of your team's progress, and measurement of impact, outcomes and ROI.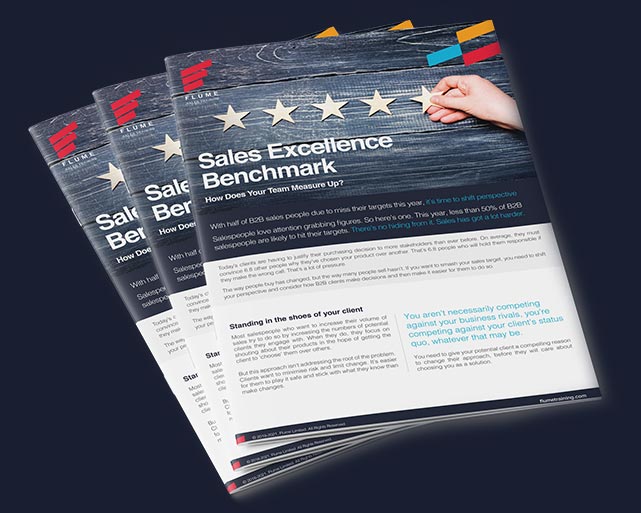 Sales Excellence Benchmark

Mapping your approach to the client's buying process will have a dramatic impact on your sales revenue. In this white paper we introduce CONNECT and CONTROL to Flume's core CHANGE – CHOOSE – CHAMPION model and describe what top sales professionals are doing at each stage of the process
View all of our free resources for helping B2B sales teams and keep up-to-date by following us on LinkedIn and our YouTube channel.
Keep up to date with the latest news and insights from Flume Training
Speak to the experts. Contact us today
Let us share our ideas and show you how to drive lasting behavioural change with Flume Sales Training Courses